ESP Door Prizes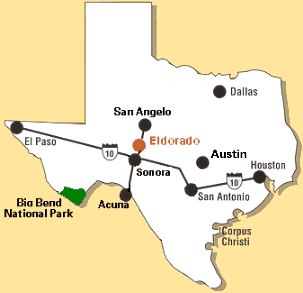 The Eldorado Star Party (ESP) — first initiated and still supported in part by the Texas Star Party (TSP) –likewise offers great dark sky observing, three hours east of the TSP site on the beautiful X Bar Ranch.  Attendees are serious amateur observers from around the state and beyond its borders. In recent years, ESP has expanded and offers week long attendance.
Now in its 15th year, ESP takes place October 16 – 21, 2017 at the X Bar Ranch outside Sonora, Texas and presents a great opportunity to capitalize on your Texas presence with a minimum effort and expense. You need not even attend.
We invite your participation in this year's Door Prize Drawing to be acknowledged:
On our website with a Link to your website, approximately 9 months
At the Lodge during presentation of your door prize
At the registration table
With literature placement
If donating, you have the option to also attend (no vendor fee!), although registration is required.  Set up is outside in the field adjacent to the observing field and tables may be manned any time prior to observing hours. Vendors are responsible for their own tables and chairs.
To participate with a door prize contribution, contact me (contact information below) at your earliest convenience with details and the URL of your website.  If additionally participating as a vendor, please register (Registration dates and fees will be posted to the ESP web site in August) for the event and contact Stan Meador of X Bar Ranch to reserve a vendor spot stay@xbarranch.com.
Your support of the Eldorado Star Party will help bring the splendor of the night skies to young and old alike, get more people involved in amateur astronomy and, at the same time, provide greater exposure to your products and company.
We appreciate your consideration and support of amateur astronomy!
John Watson
Eldorado Star Party staff
esp_vendors@eldoradostarparty.org