About ESP
Come visit the Eldorado Star Party 2017 for our 15th Year! Just for amateur astronomers who want dark skies and a protected environment on the 7,100 acre X-Bar Ranch near Eldorado, Texas.
Now an established week-long event, come out Monday to get maximum exposure to dark skies. This year meal service will begin with dinner on Monday evening, and lunch and dinner served Tuesday through Saturday.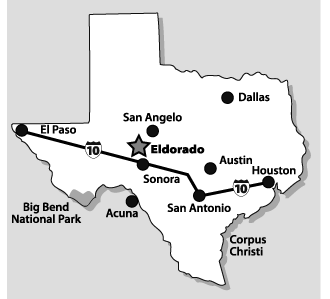 View our ESP Orientation video.
Sponsored by the Austin Astronomical Society, San Antonio Astronomical Association, and Hill Country Astronomers (Fredericksburg) with the support of the Texas Star Party, and volunteers from area clubs including Dallas and Houston, this event promises to bring dark skies closer to the amateur astronomer. The central location (46 miles west of Fort McKavett) is within easy driving distance of many Texas cities and enjoys the dry climate of west Texas.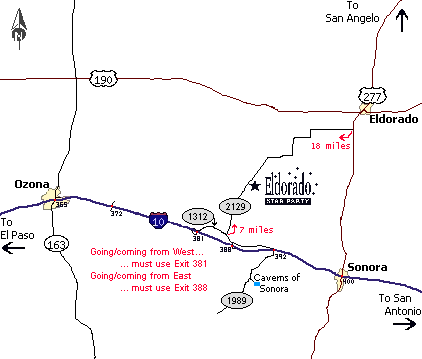 The site is 8 miles north of Interstate-10, and has a convenient all-weather road and parking area at the observing fields. Camping and RVs available on-site. Hot-water showers and toilet facilities are conveniently located near the camping areas.
Specially-priced motel rooms are available in nearby Sonora and Ozona. X-Bar also has a few cabins located a short walk away. Lunch and dinner will be catered at X-Bar's nearby Live Oak Lodge.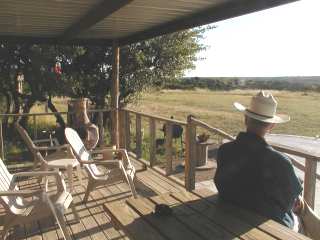 We hope you'll join us for the upcoming
Eldorado Star Party!
Your ESP volunteers,
Chuck Baker
Karl Baltz
Catherine Trevino (Registrar)
Dave Clark
Bill Flanagan
Mark Jurena
John Watson
… and the Meador Family at X-Bar Ranch